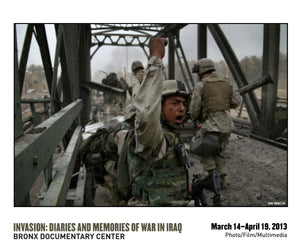 This exhibition poster is signed and numbered within an edition of 75.
Size: 20 x 24 inches
Invasion: Diaries and Memories of War in Iraq was an exhibition featuring the remarkable war diaries of Marine Lt. Timothy McLaughlin, along with texts by Peter Maass and photographs by Gary Knight. The exhibition presented three different experiences of the invasion from within the same unit and is timed to the 10th anniversary of the invasion of Iraq.