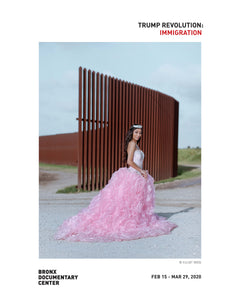 This poster is numbered within an edition of 50.
Size: 20 x 24 inches
Through photos, words and multimedia, the BDC exhibition, Trump Revolution: Immigration, documents the current president's overturning of decades of American immigration policy and law, and its profound effects on American society and the lives of millions of immigrants.

Featuring work by Greg Constantine, Kholood Eid, John Moore, Luis Antonio Rojas, Elliot Ross, Griselda San Martin, Cinthya Santos-Briones, and Laura Saunders.
This is the first in a year-long series of Trump Revolution exhibitions examining America's societal and political transformation, one whose speed, reach and consequences are unmatched in our country's history. From February through November 2020, the BDC will present exhibitions on the following themes: nationalism, climate change, foreign policy, and the media. 
© ELLIOT ROSS