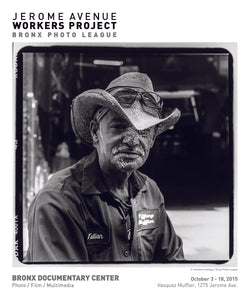 Poster Size: 20 x 24 inches
This exhibition documented and celebrated the workers and trades people of Jerome Avenue, one of New York City's few remaining working class neighborhoods where many still make a living in small shops and factories, or repairing automobiles. The city is considering a plan to rezone two miles along Jerome Ave: speculation and rising rents are already evident. If passed, the rezoning will lead to construction of housing units, but also, many believe, to the end of a proud culture of industry and work in this last bastion of New York City's working class.
The Bronx Photo League, a project of the Bronx Documentary Center, is made up of 18 Bronx photographers committed to documenting social issues and change in our borough. The Photo League works to present a balanced and nuanced image of the Bronx. The Jerome Avenue Workers Project is the Photo League's first major exhibition.
The portraits in this show were shot on Kodak Tri-X negative film with Hasselblad cameras and lenses.  
Learn more on the exhibition website.