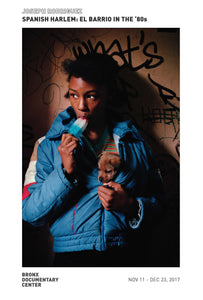 This poster is signed and within an edition of 50.
Size: 20 x 24 inches
Shot in the mid-to-late 80s, Joseph Rodriguez's superb photographs of East Harlem bring us into the core of the neighborhood, capturing a spirit of a people that survives despite the ravages of poverty, and more recently, the threat of gentrification and displacement. In a now-distant landscape littered with abandoned buildings, ominous alleyways, and the plague of addiction, the residents of Spanish Harlem persevered with flamboyant style and gritty self-reliance.
Mr. Rodriguez, himself a working-class Puerto Rican from the streets of Brooklyn, spent five years (1985-90) in "El Barrio" as the neighborhood is known. Working closely with families, residents and the neighborhood's social institutions he attended birthdays, holy communion, funerals, demonstrations, graduations ceremonies and quiet Sunday afternoons on the block. Often, Mr. Rodriguez just hung out, spending time with his friends and waiting for a moment in time to raise his Leica. His vibrant Kodachrome images form the most powerful body of work in existence of New York's Latino community in the bygone era of the 1980s.